Nabayan Roy
Product Owner and Principal Experience Designer, Autodesk Asia Pte, Singapore
Nabayan Roy is a Product Owner and Principal Learning Experience Designer at Autodesk, Singapore with the AutoCAD team. Nabayan's interests include Agile and lean product development, driving user experience excellence and human-centered design thinking using LUMA, user research and customer interactions. Nabayan has presented at many international conferences on a variety of topics, including Agile development, product design, and content strategy. Nabayan holds an Electronics Engineering degree and has several years of experience working in the CAD and PLM industry. Nabayan is a Certified Scrum Product Owner (CSPO).
Focusing your product creation on solving problems is subtly but powerfully different than focusing on creating features. What does our customer really want? The customer's area of expertise is not in abstraction, interface design, and software development – they won't make directly-useful requests. Understanding the unmet and unexpressed needs of the customers is the key to unlocking value. In this talk, we will explore cases (stories from AutoCAD & outside world) where clarifying and storytelling the "why" proved easier, more effective, and inspirational for the team to create amazing thing.
---
Presentation
DOWN THE RABBIT HOLE – WHEN PRODUCT MANAGERS ARE MOTIVATED BY WHY NOT WHAT, MAGIC HAPPENS!
For years, companies have talked and acted on this product commandment of 'listening to your customer'. But, in today digital economy, we are going to see organizations facing the problem of managing uncertainty across many frontiers—just listening alone is not enough. The customer's area of expertise is not in abstraction, interface design, and software development – they won't make directly-useful requests. As Steve Jobs nicely puts it, "It's not the customer's job to know what they want." The Product Manager's Malkovich Bias is when we limit ourselves to just asking what the customer wants and getting back to our development teams to tell the story that is primarily woven around two themes – What and How (we would build it?).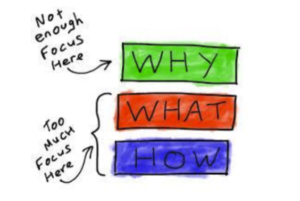 The Three Musketeers
Someone can argue that isn't this being customer-driven, and outside-in? Theoretically, there is nothing wrong with this approach, but Product Managers miss out on an opportunity to innovate – to invent something valuable – by focusing on an inside-out description of a problem manifestation. As a Product Manager, you should be able to synthesize the Why and Not Just What the customer wants—the uncanny ability to see the unknown or unstated need by the customer is what matters. Every Product Managers or Product Owners (in an Agile world) should start by recognizing that your true job is to create a customer (not your solution). Customers are results or outcome driven. Look for a job they are trying to get done (jobs-to-be-done) and study how they are getting it done (existing alternatives).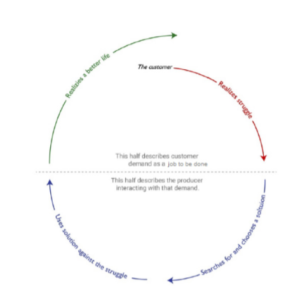 The System of Progress – Jobs To Be Done
To illustrate my point, here is a famous case study of an online music streaming App called Spotify. Sometime back, Spotify had this 'as-design' issue that at any given point of time, only one instance of an account could be streaming music. So, if you were listening to a song on your computer, and then started listening on your phone app, it would stop the streaming on your computer. For an individual user, it might not have been a big problem, but if you have shared your account with your family members, the chances of your music streaming being abruptly stopped was higher. And when customers complained, Spotify could not only sense the real problem, but also respond with innovation and new market service. What Spotify did was that it figured out the Why and not just respond to the What feedback of their customers. Now in addition to creating a warning message that told customers when another device was about to interrupt their stream—Spotify saw a new business service. They introduced a 'Family' plan—no more fighting over what to listen to, and no more interruptions when someone else logs in and starts playing. This clearly demonstrates that when Product Managers can read the unmet needs of customers or the clarity of Why, they are able to create new markets and new customers. Isn't that magical? But to see this magic, Product Managers must go down the Rabbit Hole—fall in love with the problem; understand the Why of the problem, and then start with the How your team going to tackle that problem, and finally the result, which is nothing but the What—your response to the customer problem. As Product Managers, always remember that your team can do truly amazing things when you tell them Why. Ask your customer what they were trying to accomplish (outcome), and the explore why the current feature was failing them (problem).
We are in the midst of a revolution. Today, most companies are delivering software to customer based on a subscription model – this is not just a technical challenge, but this whole transformation requires a complete rethinking of the way we have been delivering value to our customers. Agility is no more a buzz word, but part of the DNA of every product organization. It is about Continuous Everything! When you understand your customers, well beyond meeting their must-have minimum expectations, and beyond addressing their explicitly stated desires, you have the opportunity to solve the problems they don't realize that they had in the first place. This presentation will provide you with real world examples, how to explicitly include the why in your story mapping exercises, how to define or measure success of our outcomes, how to address the experience debt, and finally how you can become a true customer company by have a two-way conversation of sending the unmet needs of your customer and responding with new experience that creates value to you and the customer.